Now that you have gotten your hands on our Aluminum Type-C Pro Hub Adapter, here are a couple of helpful tips for setting up and using your new MacBook Pro companion hub.
Got a Hard Shell Laptop Case?
For an optimal fit, we recommend connecting your Pro Hub without a laptop shell case. An attached bottom case may prohibit a proper connection to your MacBook Pro. When the adapter has been properly inserted, you will see a small light illuminate on the side of the Pro Hub.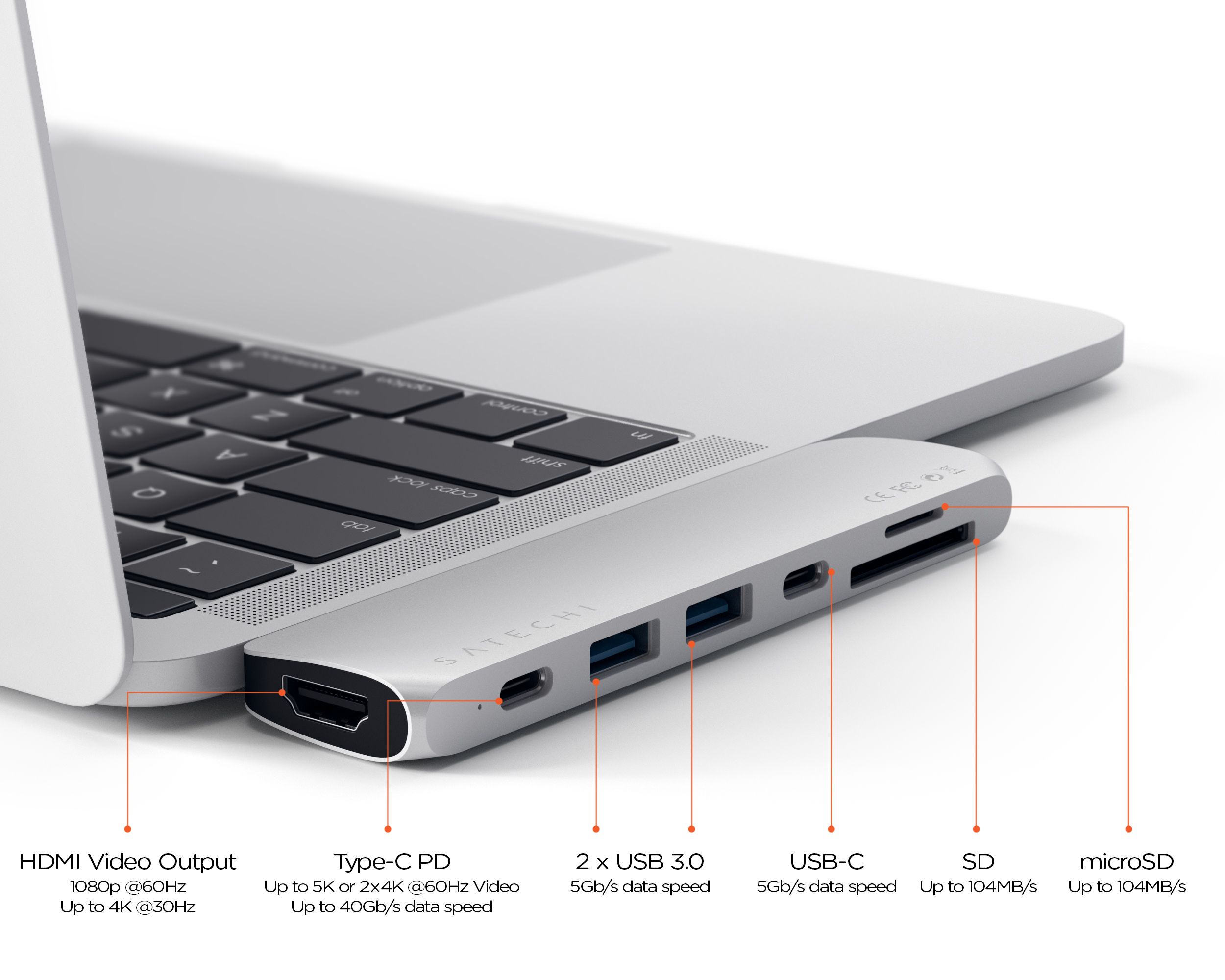 Not All USB-C Ports Are Created the Same
The first USB-C port, nearest the HDMI, supports pass-through charging and up to 5K video output. The second USB-C port was added primarily for data transfer purposes, not pass-through charging (iPads, MacBook Pro, etc.) and video output. However, it should be able to power smaller USB devices such as an iPhone.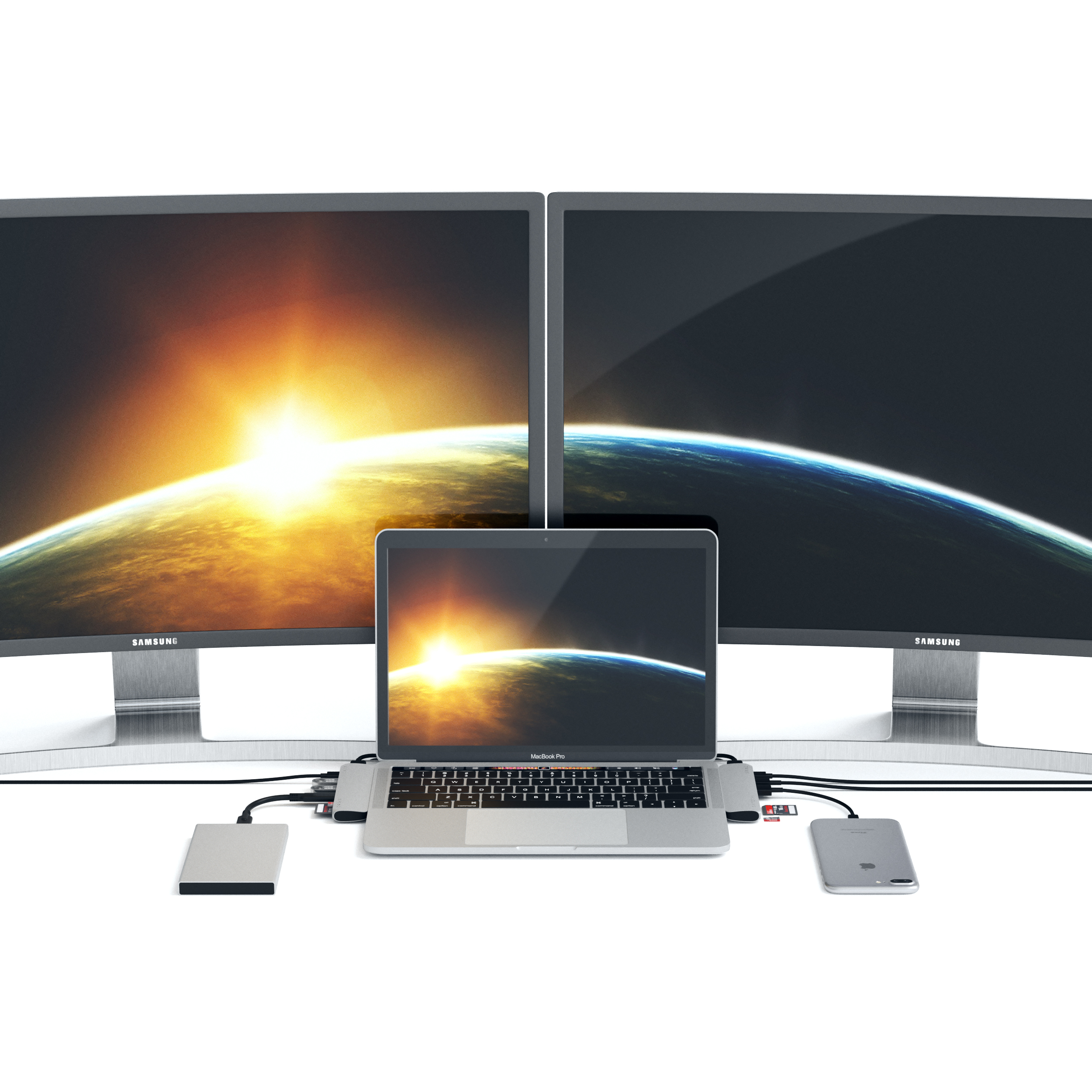 Connecting HDMI Displays
When connecting an external monitor via HDMI port, we recommend using a direct HDMI to HDMI connection for best display and performance. Please note when changing video signal source, your monitor may flicker for a few seconds. Normal operation should resume within 5 seconds. Also, you may connect a maximum of one external display via the HDMI port and two displays through the first USB-C port.
Dual display supported only on Apple M1 Pro/Max and intel-based MacBooks:
https://support.satechi.com/hc/en-us/articles/11976516295579-Will-this-support-dual-display-for-M1-or-M2-MacBooks-
USB Devices & External Hard Drives
With the gradual shift to universal USB-C ports, Apple laptops have eliminated standard USB-A ports from their newer MacBook/MacBook Pro models. But don't worry, you won't have to toss out your USB-A devices just yet. The Pro Hub Adapter allows you to connect your standard USB 3.0 devices and is backward compatible with USB 2.0 devices. For a stable connection, we recommend connecting only one external USB hard drive at a time. Not compatible with Apple SuperDrive.
More Troubleshooting Tips
If you are experiencing any HDMI display, Ethernet, or USB connectivity issues, we recommend restarting or shutting down your computer.
Before completing a restart, please ensure that the Satechi Adapter is disconnected from the host device and all devices are unplugged.

For Intel-Based MacBooks, We recommend an SMC reset. This helps reset the SMC (System Management Controller) which resets the MacBook's USB-C ports that connect to any power consumption devices (such as your Satechi Adapter). To do this, please complete the following:
Choose Apple menu > Shut Down and wait for your Mac to shut down.
Press Shift-Control-Option on the left side of the built-in keyboard, then press the power button at the same time.
Release all keys.
Press the power button again to turn on your Mac.
For MacBooks with Apple M1 or M2 chip:
These Macs do not have an SMC, but there is a way to do a reset similar to the SMC reset:
Shut down your Mac
Once the computer is completely shut down, close the lid of the MacBook.
Wait 30 seconds, then open the lid and press the power button to turn on your Mac.
For additional set-up information, please refer to our Quick Guide attached below. If you have any other questions, please contact us at support@satechi.com